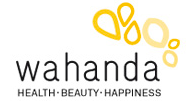 I just mentioned this on twitter but no one seemed interested. Just in case you have never heard of Wahanda mob deals its a pretty handy beauty/health related site that has crazy discount deals.
I ordered a Dermalogica facial for £10 ( Believe it or not). There have a lot of bank holiday deals on at the moment from facials,massages,manicures, pedicures, hairdressing and the list goes on. All you need to do in sign up for the newsletter to get the latest deals. Wahanda has deals for people in the UK and US.
Lastly, everyone who signs up for Wahanda Mob Deal newsletter also gets £5 towards their first purchase.You get £5 for referring a friend (When they purchase), and they get £5 when they sign up

I do not know about you ladies/gents but I cannot pass on a good deal.So if your a bargain hunter visit http://www.wahanda.com/.